Full Moon And Half Moon Parties In Thailand
Thailand full moon parties are legendary among Thailand holiday goers. Taking place in Haad Rin Beach on Koh Phangan Island once a month, these parties offer revelers a chance to let lose and dance the night away under a carpet of stars. If the full moon happens to fall onto a holy Buddhist day, then the full moon party will be scheduled for the day after.
Full moon party facts:
According to legend, the first ever full moon party started as a spur of the moment thing by a group of 25-30 backpackers back in 1985. The idea was so successful that ever since then the party numbers have grown and today some 30,000 party-hungry dancers converge on the Haad Rin beach once a month.
On full moon night the atmosphere is awash with excitement as thousands come together for the same purpose. Street vendors sell everything from food to questionable energy drinks such as M150, Shark and Krating Daeng.
Parts of the area close the beach are usually roped off for sleeping purposes and the crowd of people surge together as one as they dance to the rhythmic beats of world famous Dj's.
How long does the full moon party last?
The party starts at dusk on the day of the full moon and lasts until the afternoon on the day after. You can dance the night away, make new friends, enjoy the impressive performance of Thai fire twirlers or simply sit back, relax and watch the spectacle from a distance.
The Dj's mix up a range of music, you can dance to techno, house, trance, reggae, and drum and bass.
A fitting end to a Thailand holiday:
Attending a full moon party on Koh Phangan is a must for any self-respective backpacker and nomad. It's a fitting end to a holiday, or could be the perfect start. It is a great way to experience the hospitality of the Thai people. Cheap hotels Ko Phagnan cater to the mainly budget-conscious crowd of attendees. If the noise of the pumping music is too much for you to bear you can book cheap hotels Ko Samui instead as Ko is not far away and might be better suited for people who love to party but then want peace and quiet to recover afterward.
Despite the fun, some warnings should be observed before attending a full moon party:
There is a serious side to partying your night away under the stars on full moon night on a Thai beach. The most important is to keep in mind that broken glass is a common sight on the beach, therefore you should always wear sturdy footwear.
Another thing to keep in mind is your safety and security. Keep your valuables safely locked in the hotel safe and never accept drinks or food from strangers. Drink, or food spiking and date rape can easily happen when thousands of people party in the same spot. This makes it very hard to control thieves and other unsavory characters. Also, keep your hands off drugs since Thailand has strict laws in relation to them.
Full moon party dates 2009/2010: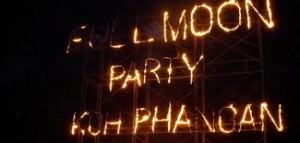 October 4th, November 2nd, December 2nd, December 25th (Xmas Party date), December 31st, January 30th, March 1st, March 20th, April 28th, May 29th, June 26th, July 28th, August 25th, September 23rd, October 23rd, Novermber 21st, December 21st, December 25th (Xmas Party Date), December 31st
Thailand half moon festival:
The half moon party or half moon festival takes place at the same spot as the full moon party, on beautiful Koh Phangan Island. Dj's serve up an eclectic mix of tribal house and trance and the whole setup is similar, if not the same as at the full moon party.
As a matter of fact you could just become a full time party resident and dance until the cows come home. Half moon parties are hosted usually one week after or one week before the big sister; the full moon party.