Phuket Hotel Accommodations – A Place to Stay for Every Budget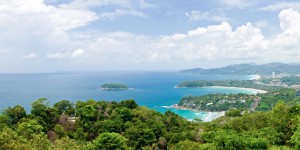 Phuket is the largest of Thailand's islands located South West of the country. Mostly consisting of rainforest bordered by beautiful white sand beaches, Phuket has become one of Thailand's most popular tourist destinations.
With the increase of holiday makers traveling to the island, Phuket has gone from a deserted unknown entity in the Andaman Sea to a fully functioning tourist location, able to accommodate every type of traveler. From backpackers on a tight budget to investment bankers with bulging wallets, Phuket has the perfect home away from home for whoever happens to visit.
The main types of accommodation on offer in Phuket are hostels, guesthouses, hotels and resorts. Each type of accommodation bears different types of guests, ranging prices and various facility options. Using your own list of requirements, these are all aspects that need consideration when choosing a place to stay and budgeting your trip.
Is a Hostel Right for Me?
Out of all the accommodations in Phuket, Thailand, hostels are the cheapest, aimed usually at backpackers. The accommodation type is extremely basic and works on a principle of shared living space. As it is aimed at backpackers, the ethos usually has one of two focuses: partying or 'chilling'. Due to the touristy culture of the island, it is more common to find party hostel in Phuket than anything else. Two main types of rooms can be found in hostels: shared dormitories or private rooms.
Shared dormitories are the cheapest form of room in a hostel and usually comprise of a large space filled with as many bunk beds as can fit (typically between 12 and 16), meaning that limited privacy is available.
Private rooms are smaller, more expensive rooms which can hold up to four beds. These rooms are available to rent as a whole by groups of travelers or couples who desire a touch more privacy. As the rooms do not have unknown people in them, they are significantly more secure.
Hostels are the most basic form of accommodation meaning limited facilities. However, as they are aimed at backpackers and travelers on a low budget, shared kitchen facilities are frequently available to enable guests to cook for themselves. Hostels rarely have restaurants.
Bathrooms are nearly always shared with other guests. Occasionally private rooms may have an ensuite but this is a rare occurrence. Lockers are usually made available to every guest in order to preserve security of valuable items.
Additionally, wifi and power sockets are sometimes on offer to guests to keep in touch with the real world and to charge their electrical commodities. Charging electrical items can often be insecure as phones, laptops etc. will be left in sight of the public.
Hostels are not usually found on beach roads but in more secluded locations in order to keep the running costs low for the business. Alternatively, they can be found tucked in between bigger establishments in busy locations, often close to nightlife and the busy shopping markets. With the varying geography of the island, hostels can be found skirting the edge of the jungle for backpackers trekking in Thailand or in the middle of Patong for those more interested in Thai girls.
Finding a reputable hostel usually comes through word of mouth as travelers and backpackers who have experienced them are the best source of review.
However, hostel websites such as www.hostelworld.com, www.phukethostel.com and www.hostel.com offer a wide range of options with descriptions, pricing details, photographs and reservation information. Up to date guide books such as Lonely Planet and Rough Guide also present excellent information in regards to locating hostels.
In order to book a hostel, online third party agents such as hostel websites usually offer the lowest prices. Alternatively, guide books and websites often present telephone numbers and bookings can easily be made over the phone. Unlike more expensive accommodation, hostels mostly work on a walk-in basis.
On arrival, guests will be shown to their bunk but rules and facilities are usually indicated by other travelers sharing the accommodation. Payment is mostly on arrival and refunds are unlikely to be available. If possible, booking online is usually cheaper as banking in Thailand can be expensive for backpackers. With a $5 charge on all ATM withdrawals, many travelers choose to save their currency and pay by card online.
Perhaps I Prefer the Privacy of Guest Houses
Guest houses are the budget hotels of Phuket. It is not difficult to find a clean and friendly guest house but price usually determines what they have on offer in terms of style and facilities.
The pricing of guest houses can range dramatically depending on a number of factors. The time of year is a dominant issue when considering guest house prices as during low season (from May to October) rooms are charged at a considerably lower rate than high season. Low season prices can range from $6.34 (Pineapple Guesthouse) to $38 (Third Street Cafe and Guesthouse). High season prices range from $10.56 to $42 for the same rooms.
Secondly, guest houses will frequently offer a choice between an air conditioned room and a fan room. Air conditioning is always more expensive, usually adding $5-$7 to the room price.
Guest houses with more facilities are usually charged at a higher rate, but as they are mainly basic accommodation for budget travelers, facilities offered are most often simple like hostels. Some guest houses will offer towels or towel rental, wifi, hot showers, washing facilities and most often there is a restaurant attached. The price will sometimes include breakfast.
What sets guest houses apart for hostels is that rooms are private and are accompanied with a few of the luxuries often in hotel rooms, such as a safe for extra security, a minibar, cable TV, a drying rack and sometimes a balcony. These extra facilities will vary depending on the establishment and the price paid.
Rooms are available as singles, doubles or twin rooms and rarely accommodate more than two people a room. Most establishments provide a shared bathroom and few boast ensuite rooms. Generally rooms are equipped with either a window screen or mosquito net to prevent being bitten, but these should always be checked for holes; owners will usually provide a replacement in these circumstances. If the sheets are unclean or a room looks dirty, a quick word with the owner will usually secure a new room or a replacement of linen.
To find guesthouses and information surrounding what they have to offer, their location and the price, websites such as www.agoda.com and phuketguesthouse.com cover all the details you need to know as well as a chance to make reservations online. Alternatively booking can be made in person on the day, with the owner of the guesthouse showing you to your room and what is on offer when you arrive.
Additionally, guest houses are often attached to or run their own tour company. This means that guests can access information regarding the surrounding must see attractions as well as having the ability to organize day trips elephant trekking, island hopping, on ATV tours, kayaking tours, to see tigers or visiting temples. Guest houses may also offer scooter rental to allow you to show yourself round Phuket.
Maybe I'll Upgrade to a Hotel
Hotels and guest houses are often confused. The main difference is that hotels are professional establishments staffed by a team who are employed by the business owner, whereas guest houses are run by the owner and work on a more informal basis. Hotels also boast a wider range of facilities and a higher quality look, for example, hotels with pools are far more common than guest houses with pools.
Although hotels are often more expensive than guesthouses, they're not always as nice as guesthouses have a more personal touch, often have quirky features and give you the ability to discuss with the owner local places around Phuket to visit . Additionally, hotel rooms can be extremely cold and corporate and often have little of a homely feel to them.
Similar to guesthouses, prices are higher in high season and dip in low season. Low season hotels range from $10.30 (Orchid Hotel and Spa) to $145 (Hilton Phuket Resort & Spa). In high season, hotel prices start at $24 (APK Resort and Spa) to $209 (Ansana Laguna Phuket Resort formerly Sheraton Grande Laguna).
Online deals and discounts can be found at websites such as www.agoda.com and www.asiawebdirect.com which both have the capacity to search for specifically discounted hotels. In terms of making a deal face to face without reservations, this is usually only possible in smaller hotels and for long stays.
The facilities available are dependent on the price, with hotels like Holiday Inn Resort & Hotel offering basic amenities and 5 star hotels providing a whole host of luxury items. Depending on where a hotel sits on the price scale, you can expect to be provided with any of the following:
Safety deposit box
Telephone
Cable TV
Hairdryer
Wifi
Minibar
Tea/coffee facilities
Trouser press or iron
Hotels can also offer extra services such as room service, laundry, jet ski rentals, help on where to rent snorkel gear, and spa and massage services.
Hotels will offer single, double, and twin rooms but often also boast superiort,ion, where the beds are bigger, the room is larger and more luxurious or a balcony/sea view is included. All rooms are notoriously spotless as hotels will hire cleaning staff to ensure the rooms are to the highest standard. Always check the sheets and toilets to ensure cleanliness and complain if they do not meet requirements.
Additionally, safety deposit boxes are provided for extra security and should be used to store valuables and passports. Hotel room doors can sometimes be accessed using a magnetic card rather than a key. In these cases, always double check that the door is firmly closed when departing. Always check that the windows fully lock.
As hotel are mainly frequented by middle range budget holders such as families or couples, the reception on arrival is always more professional and corporately welcoming than hostels and guest houses. Staff will usually carry themselves in a more formal manner and will provide the highest customer service. Despite this, tipping is usually not expected and can cause offense to Thai people.
I want to Splash out on a Resort
Resorts differ from hotels as they comprise of an entire complex of holiday makers. Often more luxurious than hotels, they accommodate every need with a wide variety of facilities.
As resorts cater for a vast host of different guests from families, to wedding parties, from honeymoon couples to cruise stopovers,the rooms they offer can vary considerably. Usually laid out as a series of chalets, treehouses or beach bungalows, resorts offer standard double or twins rooms, more superior rooms with sea views and more space, family chalets and honeymoon suites.
Rooms will usually be spotlessly clean, air conditioned and stocked with a series of amenities which can include hairdryers, dressing gowns, slippers, towels, toiletries, cosmetics, a telephone, TV and a safe. Laundry services and room service are nearly always available, as well as the ability to book tours and activities such as water skiing, parasailing and scuba diving courses. Always ensure all locks work, including the one on the safety deposit box for maximum security.
As an entire complex, resorts usually boast a whole campus of available facilities such as a pool, a sauna, a jacuzzi, a gym, a restaurant, a coffee shop and a spa. Specific facilities vary depending on location, for example a beachfront resort will not always have a swimming pool.
The prices of resorts are wildly varied as the spectrum aims to cater for many different types of holiday makers. High end resorts such as Anantara Resort and Spa have 83 villas, each with its own pool, and a cooking school, two bars, a spa and day cruises available, cost $491 a night in low season and $700 a night in high season. Low end resorts such as Holiday Inn Resort and Hotel, which are aimed at families, cost around $80 a night in low season and $100 a night in high season.
Special offers and deals can be found on www.agoda.com and www.laterooms.com as well as their own business websites, but discounts on arrival without reservation are rare.
On arrival, each guest is shown to their accommodation and given a tour of how to use everything. Staff will usually explain how to reach all available services in an extremely polite manner. Luggage will be brought to your room by the staff and your every need will be catered for throughout your stay.