Paradise on Koh Jum –The Island Untouched by Tourism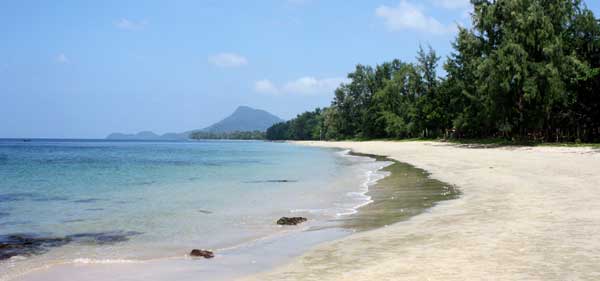 The Andaman side of Thailand is renowned for island holidaying. From the lively nightlife of Phuket to the pristine beaches on Koh Lanta and the fire shows on Koh Phi Phi, thousands of tourists flock there every year to bask in the sunlight and dive deep among the beauties that lie under the ocean.
With so much to offer on this beautiful collection of already established tourist destinations, many people fail to look a little further afield to discover what lays beyond the norm. This is exactly why Koh Jum is the way it is.
Also known as Koh Pu, Koh Jum is one of the largest islands in Thailand, which seems unusual considering it's far from considered conquered by the tourism industry. With something so large sitting triangularly to some of the most famous destinations in Thailand, it's a wonder how no-one has grasped it in their money making claws.
However, Koh Jum, currently, remains very quiet on the tourism front.
What Does it Have to Offer?
The Calm of Religion
Unlike 95% of Buddhist Thailand, many of the southern islands have a large proportion of Muslim residents. Koh Jum, has a population of 2000 people, of which, pretty much every person is Muslim. This has led to a certain piece and respect among the island. The people are shy, reserved and extremely religious making for an overall resounding silence across the vast landscape.
Islamic 'call to prayer' is the loudest sound probably ever heard. As there are little or no parties being hosted across the island, the announcement five times a day can be heard loudly and clearly, calling all people to the mosques to pray. This creates a humble peace across the people; a group never torn by religious indiscretion, all with the same line of thinking.
On top of that, schools are geared towards Muslim teachings, often held in the Mosque, and a walk around the island will show you young Islamic children happily playing and learning, always willing to speak and learn from you.
Breath-Taking Unspoilt Sights
Despite being a small land mass, as islands often are, Koh Jum seems to be a miniature Thailand all rolled into one and unspoiled by careless tourists. When you step off the long boat, it's hard to know what to take in first. With rolling jaw-dropping mountains, covered in thick luscious jungle scenery, juxtaposed with crisp white sands and jagged rocks holding crystal blue pools, it can be a lot to take in.
Unlike other islands, Koh Jum offers a chance to not only see it all, but to experience it firsthand. Whereas much of this land is inaccessible on other islands, or out of bounds due to tourist restrictions, Koh Jum has an 'access all areas' pass. You can climb to the viewpoint to look across the vast land and see, you can coast to the port and speak to people within the fishing village, you can trek through the jungle and frolic in the sand, or search for crabs in the rock pools. Nothing is beyond your reach.
Value for Money
When you step off the ferry at Koh Phi Pu, tourist agencies are falling over themselves to climb in your wallet and dig out your treasure. Koh Jum is a different story. On an island unspoilt by tourism, prices are reflective of the local people's earnings, allowing you to experience everything without breaking the bank.
A meal should cost no more than 40 baht, and a night in a double bungalow, no more than 500 baht. On top of this, no one is forcing you to take tours or buy their extra products, but you'll always find someone on hand for advice or to rent a motorbike from.
The Land of Smiles
Thailand is called The Land of Smiles as the people are known worldwide for being friendly. Despite this, many tourists often don't get greeted with this kind of behavior as they're faced by agencies trying to make a quick dollar.
Koh Jum is full of people genuinely happy that you've come to see their wonderful island. A quick conversation with a local opens doors to invitations to school plays and concerts, advice of amazing restaurants, warnings of where to avoid and all types of unexpected treasures.
Where to Stay
Jungle Hill Bungalows is one of the most beautiful sites with a whole team of friendly staff willing to go the extra mile for you. Whether it be medicine for a headache, a quick massage for your neck or food whenever you want it, the family who run the establishment are quick to address your needs. With 11 glorious bungalows overlooking the sea whilst perched in the jungle, offered at as low as 400 baht a night, this is the perfect spot to enjoy a the sand, sea and shrubbery all to yourself.
How To Get There
A long boat can be organized from either Koh Phi Phi, Koh Lanta or Krabi and takes approximately two hours. Costing no more than 400 baht a person the journey is both a peaceful way to travel and more exciting than a ferry full of party goers.