Some Casual Advice On Planning Your First Trip to Thailand
So, you are coming to Thailand for the first time and you want to know what the best things are to see and do. Congratulations on choosing this amazing country for your next vacation, and I hope I get the chance to see you on your travels. Since that's highly unlikely to happen, I'll give you a little advice for planning out your trip.
By the way, this is not a full description of all there is to see in Thailand, by any means, and only serves as my personal suggestions when planning a short trip (a month or two long).
Most people who come here envision an island paradise, where they can laze around on white sand beaches and get in some water sports—and there is certainly nothing wrong with that. Islands I recommend are Koh Phi Phi, Koh Lanta, and Koh Chang.
The South
The Similan Islands are also of particular note, especially if you like diving. For a very fair price, you can get on a live-aboard boat and spend a few days checking out one of Thailand's premier underwater destinations.
Koh Tao, an island in the gulf of Thailand, is a real diving mecca and is supposedly the cheapest place in the world to be certified for your open water. Get out into the ocean for the first time, or stay a little longer and get certified as a divemaster or instructor. Most schools offer an open-ended internship, meaning that as long as you don't graduate you can keep coming back to dive for free indefinitely.
The entire island is way, chilled-out and it's a beautiful place to spend time; I highly recommend it even if you are not the diving type. There are nice quiet beaches everywhere, so it's rather easy to avoid the crowds, but there are also parties by the beach bars every night and a few raves a month.
The North
Chiang Mai, the cultural hub of the country, is a great city to spend some time in if you are heading up to the mountains at all (that's where I live at the moment). It is a medium-sized city with all you could ask for as a spoiled global citizen, and due to delicious food and nice condos at some of the cheapest prices around, it is a very livable place.
There are also plenty of activities around the city for sightseeing trips—The White Temple in nearby Chiang Rai is a sight you'll never forget.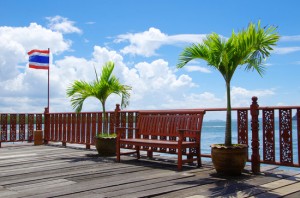 A few of my Thai friends have insisted that one of these days I must go do some traveling in the Isaan region, known as one of the most poor regions in the country. The reason, they say, is that going to Isaan is like catching a glimpse of the "real Thailand" that existed before the recent boom into modernity, and indeed, after viewing images of Khmer temples in the northeast online, I'm certainly planning to take their advice.
Of course, Koh Samui, Phuket, Bangkok, and Pattaya are other popular destinations—they don't really fit my ideal of a great destination for a short trip to the country, though.
Moving On
Other destinations in Southeast Asia I recommend are Angkor Wat (Cambodia); the 2-day slow boat mission down the Mekong, Luang Prabang, and 4000 islands (Laos); and The Ancient Temples of Bagan (Bhurma). I'll do some articles on The Philippines, Singapore, and the other Southeast Asian countries later, but for now these should could keep you plenty busy.
That said, my best piece of advice if you haven't done a ton of overseas travel (or even if you have), is to settle down in one place for no less than a month at a time rather than trying to go everywhere and see everything. This really gives you more of a chance to absorb the culture and get to know a place, and then you can take day-trips to local sites to get your "tourist" fix.
Otherwise everything becomes a blur and you don't get to savor the experiences or form real relationships.
Meanwhile, you can spend your time studying a skill like Thai cooking, meditation, yoga, scuba diving, dance, massage, language, etc, which always makes for a more valuable experience. There is nothing to solidify a vacation in your mind like bringing home a whole new skill set.
Hope that helps a little without overwhelming, and feel free to ask any specific questions in the comments. Carpe diem!